There is nothing more important to a person's self-esteem than a smile he or she can be proud of showing. At our office, that's our focus and our mission… to give each and every patient a healthy, great looking smile in a comfortable and fun environment. Every patient is different, but when selecting the treatment plan for your child, my goal is always to do for him or her what I would do for my own.
Parents often ask me, "Does my child really need braces?" Believe it or not, my answer to them is usually no. They do not need braces, but the benefits of having straight teeth and a healthy smile throughout a lifetime are immeasurable and should make it a priority. Our child and adolescent patients love the process… choosing "colors" and watching the transformation of their smile, all with a great deal less discomfort and a much more gentle touch than with the braces of years ago. And we take great satisfaction in seeing them grow up before our eyes, and then with one look in the mirror once their braces are removed, a new broader and brighter smile than ever before emerges. That feeling is truly priceless.
Orthodontics is not just for kids anymore! With the advent of Invisalign technology, more and more adults are choosing to improve their smile at our office. We have many parents who are in treatment along with their children, and who are loving the transformation as well. As an Invisalign patient myself, I know first hand what a great experience it is, and no matter what age you are, a new smile will improve the way you feel about yourself. We'll use a team approach with your general dentist to select an appropriate course of treatment for you.
After following the technology for many years, we are now proud to announce that we have incorporated the Itero Dental Scanner into our orthodontic practice. We feel the time is right, as the technology has matured and now we are comfortable treating our orthodontic patients in this manner. This device allows us to do "impression free" orthodontics with the use of photographic and computer assisted imagery. "No more goopy, messy, impressions!"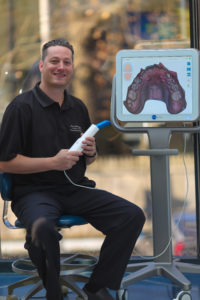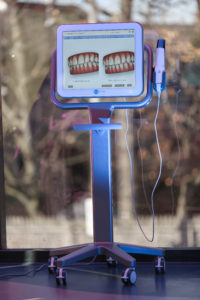 Our orthodontic consultations for children and adults are always complimentary, and we look forward to meeting you!
Dr. Chris
• Dr. "Chris" Miller graduated cum laude from St. John's University with a B.S. in Biology. He received his D.D.S. from SUNY at Stony Brook in 2002, and went on to complete a 3 year post-graduate program in Advanced Education in Orthodontics at Stony Brook. He is a member in good standing of the American Dental Association and the American Association of Orthodontists. He is a certified and preferred Invisalign doctor, and he is trained in all aspects of orthodontic treatment for both children and adults. In 2006, he co-founded the New Frontier Dental Study Club, a local study club for dental professionals, and continues to hold these meetings which provide continuing education classes for dentists across Long Island. Born and raised in Howard Beach, Queens, Dr. Chris now resides in Nassau County with his wife and two children.
Have questions about you or your child's treatment or orthodontics in general? You may Email Dr. Chris at drchris@greatsmiles4longisland.com